CNN iReport Awards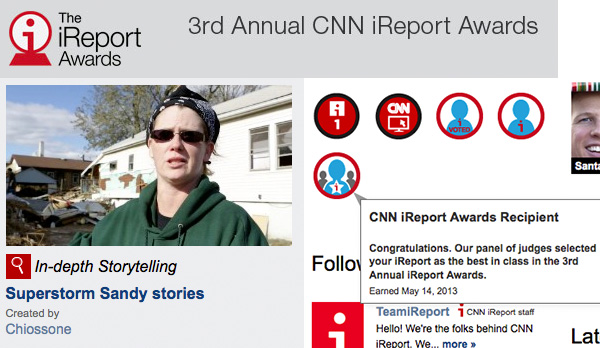 On the 14th CNN announced that I had won the 3rd Annual iReport Awards in the "in-depth-storytelling" category. This for the coverage of victim survivors from Hurricane Sandy. CNN thank you for the award! But while it feels great to be recognized for your work, it is a little bitter as the report is about people that have done some heavy suffering and had some intense losses. Yesterday I met with Janice Kennedy and even after 6 months, not everything is as it should be. I will edit and upload my report in the next few days!
CNN, again thank you!
And on a side note I want to thanks a fellow nominee whose email made my day. Daphne from CNN was kind enough to share this email with me, and I have to say that recognition from a fellow image/story teller is at times even more important than other recognitions. She has some intense and beautiful images from Hurricane Isaac and I tremendously recommend you to see and read her report. As a matter of fact, I recommend to see them all, I think everyone did a superb job! (stealing Patti's words) But here I quote from her email:
"I just wanted to send you a thank you and others at CNN for choosing my reports
to be a finalist in the in depth storytelling category.  I was so honored
to be included in the same category as Chiossone, the iReporter
who wrote the stories on Hurricane Sandy and received the award.
I was drawn into his stories and think he did a superb job.
This has been a great experience.  Thank you so much. 🙂 "
Was signed "Patti" and this is the link to her report http://ireport.cnn.com/docs/DOC-838786
Linkt to iReport nominees http://www.cnn.com/ireport-awards/#nom=indepth